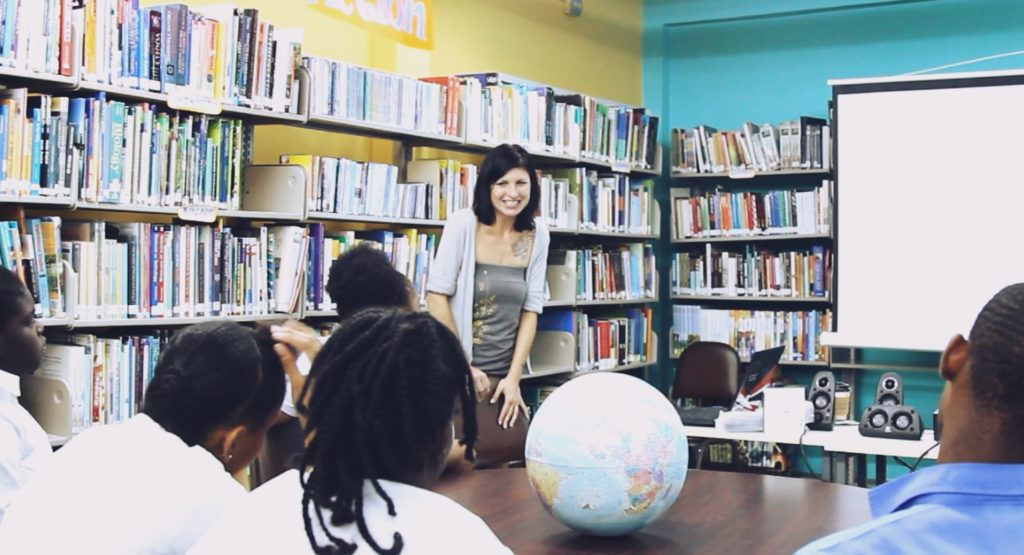 BLAZE A TRAIL SOCA MIX – DOWNLOAD LINK BELOW

by Mika Raguaa [Professional DJ & Scientist for Media and Communication (BA)]
I.   Blaze a trail across countries – The European Soca Movement
II.  The spread of Soca
III. The effect of language barriers on the Soca scene
IV. Soca in Germany and Sweden
V.  The British Soca Scene
VI. Where we are now and the Blaze-A-Trail Mix
VII. From the Idea to Inception

I.   Blaze a trail across countries – The European Soca Movement
At the first glance Europe and the Caribbean Islands seem to be very far away from each other … on average more than 7200 kilometers or around 4500 miles are lying between the much smaller Islands and the closest European countries. But through all historical processes of colonialism, slavery and migration (out of familiar relations, military or educational reasons) it was also the possibility to progress music and culture and create a unique additional sound.
Possible reasons, facts and examples will be discussed in this article. It is all about to find out how far Soca music reached the European continent shown through music releases including their background of the last two decades. Artists out of more than eleven different European countries have been featured in the relating Mixtape "BLAZE A TRAIL ACROSS COUNTRIES". The relating research brought out a huge amount of undiscovered young talents and is also showing the ways of artists that seem to be forgotten because their career started much earlier than Digitalism brought the music on the online corner. We start our story with the first Song of the mixtape with exactly such an example.
The intro of the mix is done by the artist Sugar Daddy who released the track "sweet soca music" together over Sony France in 2003. The song came out as a huge hit and got even heard in the US and the Caribbean: A song recorded and mixed in Austria released for the French music market sang by a Trinidadian and in the back with a sample out of the song "bittersweet symphony" an alternative rock band called "The Verve" in 1997 from Great Britain. 
"Soca what we love and what we need". 
"Sweet Soca is what the whole world need." (Sugar Daddy – sweet soca music, 2003)
And even much earlier the word and the idea of spreading "Soca" was said by Charles D. Lewis in the song "Soca dance" released in 1990 in Belgium. With a huge success: The song entered also the charts also in other countries including the Top 10 in Germany, Switzerland and the Netherlands. More than 2.5 million copies were spread worldwide. Lewis origin country said thanks with a "Lifetime Achievement Award" at the Barbados Music Awards in 2006.
Those artists can also be seen as representatives of the Caribbean with a European base that  brought the Soca in touch with popular music in the minds of new audiences. And the people loved it! The Soca Boys, a Dutch producer crew backed by the Surinam origin Van B. King sold more than 50 000 records with "follow the leader" and also the following song "keep on bumping" was on heavy rotations. In more than 400 Shows Van B. King entertained the crowds all over the globe in concerts and also on Television backed by costumed female dancers as in the video shown below:
II.  The spread of Soca
The French singer Edalam (with the origin from Guadeloupe now located in Paris) took the idea of "follow the leader" and released a wicked cover including his own style in France in 2010. It never got supported as a Soca track itself. Edalam is also more known for popular music releases – the acceptance of French Soca fans seems also to have points to discussion – but while you listen to it – you can't say this is not Soca. This evidence also coming up with the 2015 production "helicopta collector" which was rereleased together with Willy William a Jamaican origin singer and producer living in Montpellier in France. Creating mostly urban club and dance tracks he also influenced with his work artists like Keen V, Miky Uno & Lylloo with his origin in successful featured tracks. Beside the more known French speaking developments of music genres like Zouk and Kizomba done in and out of the Caribbean the pop influences can be taken out. The track "hula hoop" from 2011 by Lylloo and Willy William is talking about the "Soca pop".
In this context the Baha Men have to be mentioned for the European Soca movement also – therefore the song "who let the dogs out" was not really a typical Soca track – other way around the track was originally by the Trinidadian artist Anslem Douglas in a Calypso version named "doggie" done in 1999 for the Trinidad and Tobago Carnival season. Not only in the United States the song reached through the Baha Men an international hit and reached number #2 in the UK singles chart, becoming even the 4th biggest selling single in UK in 2000. They also got a Grammy and a Billboard Music award for this release. One of their most successful songs is playing at the top of this page:


Also out of the African continent influences come over to the European and enrich the music with their instruments and rhythm flows in a close tempo to groovy Soca. The so called Kuduro with its Angolan roots is a common music in the south of Europe mostly in Spain and Portugal. In productions including Steel Pan arrangements like in David Miks song "love love" out of Portugal in 2013. Feel free to enjoy the warm sound of the Portuguese language – to see also the language as an element of transportation back to Brazilian listeners.
We also face the fact that Soca is a rhythmic music – used in and out of the Caribbean for sport and fitness activities – not only for preparations on improving your health and toning for Carnival. Also all over Europe people move their body in fitness classes to Soca beats. The motivating vibe of the music is helping to keep the dancers move and also musically the Zumba phenomenon of Europe is bringing together Latin and Dance influences through French or Spanish artists on another level of reception. A famous idea of combining fitness with music in Europe is the so called "Zumba" – a nice example that also other sport moves can work on Soca is shown by following video with 'Hypersounds' song "she like it":
This choreographer is located in Romania, another European country and got influenced online over a release by Machel Montano and Pitbull. Another international cooperation of Machel Montano was "Mr Fête" was done together with Matt Houston & Kulu G as an official French release in 2013. As you can hear it's a well done feature together with the French artists bringing the song into a further direction:
III. The effect of language barriers on the Soca scene
In a Wikipedia article about Caribbean music genres the author describes, that the four different languages spoken in the Caribbean (English, French, Spanish & Dutch) are the "strongest barriers" but also the door to open to the musical diversity of Soca music – even in case the language is not understandable from everybody – the songs mostly show the same topics of enjoyment, animation to dance, Carnival happenings and letting loose over music.
The divisions between French Caribbean, Dutch Caribbean and the English spoken Caribbean Islands are also possible to see in the European Soca movement – additional new languages jump on the Soca train through influences of online music releases, Radio stations, videos and social media platforms. The relating Mixtape to this article is showing that the vibe is still in the music no matter which language is spoken. Just while you look on chosen instruments, beat arrangements, tempo and lyrics it is possible to see many similarities to releases of the Caribbean.
We also face the fact that the English language is not a common language in every European country. In Portugal, Spain, Italy and France also in the Balkan and east European area English language is one of many children can choose at school while they get through their education. This means that also for those origins there is a border to understand English as well. Many songs are also not described as Soca productions although a brief listen will reveal they share all of the Hallmarks of Soca Music – an easy Google-Search wouldn't bring out the real output. A local or regional support in the country through translations can remove this borders which is greatly shown through followers and fans of Soca Music over the World Wide Web. It is only one challenge on this journey that the language border makes it complicating for deejays to get in touch with new releases out of other countries or to get deeper into lyrics while having to idea what the artists sing about. But still good music is good music – and from this side a language can't be a border at all.
Also the skin color shouldn't be a matter in this century. Highly discussed and often watched online the related track "time to wuk" was done by Natalia Wohler this year also to take part for the Soca Monarch and the Eurovision Song Contest for 2016. She was born in Trinidad as a white woman raised in Sweden, studied in the UK and settled down in Baden in Switzerland. Her music video float social media platforms and caused plenty discussions. More than 12 000 people (while you count the video statistics together) saw the official Soca 2016 production, commented the video with plenty opinions also motivating for more releases like that. Also you can hear the addition of the Swiss-German band Schwellheim that sang the song "sos" on the relating mix. The band combines elements of Caribbean and European music influences together beautifully. Also the Netherlands brought out Arubian originated Soca artists like Valentino King (living today back in his home country) – so versatile that he is able to perform songs in English, Dutch and Spanish. Another example is Galloway Junior who is working as the only European based artist in Rotterdam on Arubian Soca releases or as the so called Recruitz Band on the relating mix.
The 'Dutch Soca Lovers' are based in the Netherlands and motivate people to come together to join with them events like Rotterdam Carnival (NL), Notting Hill Carnival (UK) or Berlin Carnival of Cultures (GER) as a huge group of people growing every year. Proud they are wearing their collective names on their shirt represent their background and the passion for Soca. 
The following video shows two members of the Dutch Soca Lovers explaining their support for the Soca Music Scene and Culture:
IV. Soca in Germany and Sweden
In Germany the scene is a growing from year to year beside the Reggae and Dancehall music scene also over Soca parties and the Mas Bands representing Germanys capital and in Bielefeld (North-West Germany). Several times before the big Carnival happenings German artists brought out some releases to support the Berlin Carnival of Cultures with a special verse.
"Once a year its Carnival we fettin on the road like there is no tomorrow – we ready for di bachhanal. black and pink is what we see when Soca take ova de street" – Ranking Smo & Boone Chatta – hermannplatz (Germany, 2010)
In the meantime Ranking Smo and the Backyardloops both located in Berlin stepped aside Soca releases – but beside Germany brings out a lot of talented deejays that promote and also try to celebrate the Soca music culture in the Caribbean way. The Berlin Soca movement was grown over the years of course also through national and international deejays and artists playing the music in the clubs and on the Carnival. Like also the featured artist Boone Chatta. In his work as MC for the Soca Twins they are internationally known and even awarded deejays running their own Mas Band also. As other totally specified Soca deejays Threeks Sound show with their road mixes and mixtapes a high online presence and big assistance on promoting also European Soca music releases. Their MC Wiesel tried to get to the front as a Soca artist as well – in German. Nothing more than "well done" is more to say about the Deejay Barney Millah who is telling his story in a great way over an impressive interview in Trinidad & Tobago "The Guardian" in 2014.

Also the German crew behind the online music store 'Faluma' made it possible that from production and distribution side more and more people could be influenced into Soca music even in the earlier days of the internet music development. The owner of the platform is also known as the deejay Marflix which was influencing Germanys Capital also through his selections.
The 'German Soca Junkies' keep up information over their website about next Soca happenings in Germany's scene – same is happening in Switzerland by the 'Swiss Soca Crew' including mixtape and party promotion of national and international releases. Since 2014 also 'French Kiss and Wine' is trying to develop a base from Paris (FR) with success. Also in the northern hemisphere we find Soca not only over the collectives 'Finland Soca Massive' and 'Sweden Bacchanal' – also plenty artists that are willing to be a part of the Soca scene or already took part of a Soca production by Partillo Productions (Gothenburg, Sweden). Their "perfect harmony riddim" got back touch with the Caribbean through the collaboration of Collie Buddz and Machel Montano "fly away" in 2011. Sadly the Swedish and Norwegian tracks stood more in the back. But their lyrics describe their situation far away from the Caribbean showing their desire and make a nice point of view of their position as European. Feel free to listen in the related mixtape presented by Arists named Jabaman, Miss Tati, Big Whale or Kasimba.
The featured Sweden based talented singer (with this very recognizable voice) Etzia cooperated with the producers Wax Wreckaz in Austria in the track "bubble and wine up" got remixed by the German deejay and Producer Crew So Shifty. One of the members is Junior Blender. With Bunji Garlin's 2008 track "zum zum" the known german producer, deejay and remixer is a great example for the huge relation between the Caribbean and Europe from music production side. Another example the producer 'Soca Dennis' based in Stockholm (Sweden) celebrated this year with the song "doh tell me dat" by Flipo a high positive response (not only through the Major Lazer remix) back in the Caribbean. The same happened with Hypersounds songs by Riddim Up Productions based in London (UK).
V.  The British Soca Scene
Let us take a closer view at the British Soca scene. Through family relations, the desire of work or a better education many UK Artists have been passing a huge path of cultural differences. Some of them are grown up in Britain or even born there by origins out of nearly every Caribbean island. London seems to be the hugest melting pot for Soca music in Europe. In this city plenty parties, live-concerts are going on not only around Carnival season in the late summer:  the Soca blazing over many online-Radio channels by a high amount of Deejays often with the same origin as the music they play. And in the upcoming year the Notting Hill Carnival shall celebrate its 50th anniversary – it is a Carnival from Caribbean People for Caribbean people. Nothing more to say about that!
The artist research was showing that all English speaking Soca artists in London have a direct relation to the Caribbean over their origins from St. Lucia, Grenada, Barbados, Dominica, Monserrat and Trinidad & Tobago. Most of the artists have a big interest to get heard locally, in Europe and in their originated homelands. A great example is the following video of Curmia Lisette telling her St. Lucian story over a poem on a Soca beat together with Nadiva and Sunshine from Muzik Lil Muzik called "in love with an island":
And even while this video was taken in London you can see the girls passionately standing in the rain dreaming of their home country. Through all questioned artists nearly none of them want to take a place in the Caribbean Music scene more they want to be respected as professional musicians for acceptance as Soca artists, talent and a faraway living representant of Soca music for their origin home country. Again we see the border we have to cross – even if the language is the same. But also in London the scene is focused on Caribbean and UK releases stay on the side. Sometimes it is also  matter of promotion that the artists don't get in touch with the right channels of distribution.


The mixtape we have created hopefully will help to present their high diversity in styles, skills and talent also to the British scene and show that for sure many can be comparable with artists based in the Caribbean. But at least while listening to them it is a possibility to grow an own opinion. In the mix many tracks from Riddim Up Productions have been taken. The crew behind Riddim Up is Socachild who is also often mentioned in the tracks. It is showing the huge support the artists get by the producer and can be a great possibility of connecting with other artists originated from the same or other islands since more than eight years. Part of the Riddim Up army are or have been Dan Dan, Jo Money, Zylo, Villanz, Terrah Dan, Chardanai, Nikisha, Natia Daniel, Big Bad, Charma D and Cocoa Nuraya. Feel free to check them for a close up over the related articles of the artists.
Also the visual ground is impressive, while some artists like British Soca singer Konata Alleyne with his Trinidadian roots showing a "Caribbean" flavor through in the music video in the related song "aye yo" from 2011 do others show their special relation to city of London itself as their home base. A great example for a music video is the 2015 released song "mawd" by Triniboi Joocie made some of his fanbase in a food corner and a hair dresser shop in London:
Also in the lyrics you can hear also a special connection. As nice example auf of the relating mix is the newcomer artist Keisha K describing with her song "visa" long distance relationships between Europe and the Caribbean. She is one of those talents spreading her hands in different musical directions – also in Hip Hop same as Deevine and Nikisha can show different sides of themselves over RnB and Soul or even acoustic releases. While Ms Desire is songwriting also for Universal music and managing beside being a Soca artist, she is having her own PR and Artist Management Company.
VI. Where we are now and the Blaze-A-Trail Mix

For the last two years the St. Lucian origin artist Jo Money designed costumes for a Mas Band and is playing steel in London since more than 25 years. A related steelpan solo on the related mix came out of Justin 'microdot' Russel. Others like Natia Daniel or Scrappy take the whole organization of festivals or concerts in their own hands to spread their Songs all over the county. Many artists won awards, plenty of them can sing since they can walk or talk and the most of them represent Soca music culture in and out of Europe for and also for the Europeans.
"… from nothing to something …. wicked…" (Lutenants – United Kingdom, 2012)
We also face the fact that some artists switched the music genre already or have finished totally with the music business. A sad example is showing the group Lutenants that quit out of the music scene probably also in case of a too low local support. Another example is also Jah Mirikle who is more interested in Reggae and Dancehall releases nowadays. Also the talent of Kerwin Dubois stood in UK while he was based in London for a time of his life was more known over the British Calypsonians than the Soca scene. Lately his path over New York and at least though passing the right connections he got to known Artists bought him his current status as a Soca artist as we know him not only in Trinidad. 
The signal unity trough the selection of the relating mixtape "BLAZE A TRAIL ACROSS COUNTRIES" and the research shall show that the cultural exchange between the European and Caribbean influences might be more huge than expected. As music is known it is an instrument of expression of those that have the desire of spread their music to ears worldwide.
"Isoca… heSoca, sheSoca, weSoca… This is WE Soca now…" 
(Scrappy  – "we Soca" –  United Kingdom, 2012)
The talented Artists selected for the mix show how much potential Soca music in Europe is progressing. Only to make sure that the movement is even more huge than this article, the artists and song selection stands as an example of how Soca is growing in the last decades and shows no signs of stopping.
Feel free to share the mix, the artist profiles and this article to grow the interest on Soca music ín and out of the Caribbean. It got already developed into more than just a seasonal music for Carnival time. And even in time of political eruptions the European Soca artists need more support than ever to help set up a unity.
VII. From the Idea to Inception
The idea of bringing the European Soca movement into a special musical focus came into place ever since the experiences I had while I was touring the Caribbean in Trinidad and also in August in London (United Kingdom) all around Notting Hill Carnival 2015. Through plenty conversations in and out of the Caribbean I was asked what is going on with the development of European Soca music, where artists are located and even if…
Late September I started doing an intense research about these and other relating questions. After hours, nights and months of research, over social media, online video platforms, I studied also literature and press information of artists. Also I got in touch with the through the contacts I established myself as a Deejay to the European Caribbean music scene over more than seven years. Also I wanted to talk to the artists personally.
I speak English, French, Spanish, German and Polish – knowing all those languages was essential to portray a clearer picture of what happened after Soca music left the Caribbean and reached the European continent. The result is the mixtape "BLAZE A TRAIL ACROSS COUNTRIES" and the article "European Soca Movement"  showing through examples the historical development.
The mixtape represents the musical vibe out of 11 different countries. The artists are or have been based in the United Kingdom, the Netherlands, Belgium, Sweden, Norway, France, Spain, Portugal, Switzerland and Germany. There is also a special saxophone solo by an Italian musician friend, on a British riddim production. Another special solo was done by a musician and teacher of Steel Pan in London.
The Mix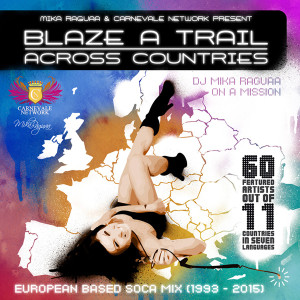 is an edited live recording which I realized in the early December 2015 from my base in Leipzig (Germany). The video teaser shows footage out of the recording. It was great to hear all of the artists finally come together and unite in one production. As is the case with cultural differences of countries, the mix is differing not only in the tempo of Soca. The selection was not related to the popularity of the artist but more so the quality of music and the closeness to the genres of Soca and Calypso. The idea was to bring the power of the musical movement into one production to represent the countries, languages and the huge relation to the Caribbean through chosen instruments, beats, lyrics and expressions through the final sampling. The production is timeless in that it relates and shows the developments from the early beginnings in the 90s till today and it also mentions artists that left the music business totally or switched to other music genres.
All the movements of Soca – no matter  which direction or country they went through – shall get the opportunity to be showcased and written about, for respecting the past, remembering the talents and present nowadays newcomer  – each of them is a story worth telling.
So with the free downloadable mix and the bonus material featuring artist information I want to set a signal to make people look left and right into music development and help make it possible for talents to be discovered.
My motivation was to "Blaze A Trail ACROSS COUNTRIES". Feel free to donate to my work by clicking on the button next to the download link to the mix. With the support you assist to continue my passionate studies on Caribbean music development as a media- and communication scientist and a self-employed professional deejay.
EUROPEAN BASED SOCA MIXTAPE – BLAZE A TRAIL ACROSS COUNTRIES (mixed by Mika Raguaa)
Did you ever hear about Soca from Europe? This is not just a two hours selection with 60 artists based in 11 different European countries – it is a movement! Influenced or originated by the Caribbean the mix showing and the artists are showing that the passion for Soca music is breaking the borders of language and nationality through the last two decades. Be impressed of an inspiring sound of Soca in French, Spanish, Portugues, Dutch, English, Switzer-German and German. Feel free to hear the message the artists are spreading.

check out the article about THE EUROPEAN SOCA MOVEMENT – by DJ Mika Raguaa which is showing the historical developement and the geographical extension of Soca in Europe. You will also find a full detailed tracklist with all artists (including location)

This mix has been featured in radio interviews in Trinidad & Tobago, played on TEAM SOCA and SOCA PASSION LIVE online radio stations. It got beautifully reviewed in Riddim Magazine – Germanys most wanted magazine featuring and representing Caribbean music.
You enjoyed the Mix? Read more about it in the article – BLAZE A TRAIL ACROSS COUNTRIES – From Idea to Inception.

120:57 MIN – 277 MB – 320 Kbs, MP3
(RIGHT CLICK AND SAVE TARGET AS…)
TRACKLIST – BLAZE A TRAIL ACROSS COUNTRIES:
Sugar Daddy – sweet soca music (mikas bitter bugalu edit) (FRANCE, 2003) (intro)
Keen V – les mecs sont… (FRANCE, 2014)
Scrappy – closer (UNITED KINGDOM, 2014)
Nikisha – one dance (UNITED KINGDOM, 2010)
Jah Mirikle – show me your motion (UNITED KINGDOM, 2010)
Natia Daniel – line it up (UNITED KINGDOM, 2015)
Natalia Wohler – time to wuk (SWITZERLAND, 2015)
Big Bad – we drinkin (UNITED KINGDOM, 2014)
Cold Chizzle & Jonas Keeve & Cocoa Nuraya – to the left (UNITED KINGDOM, 2013)
Backyardloops – weit weg (GERMANY, 2013)
Lutenants – sleeping giants (UNITED KINGDOM, 2013)
Schwellheim – S.O.S (SWITZERLAND, 2015)
Charley D Lewis – soca dance (bajan edit) (BELGIUM, 1990)
Jocelyne Labylle & Cheela passi Jakob Desvarieux – laisser parler les gens (FRANCE, 2010)
Recruitz Band – summer vibes (THE NETHERLANDS, 2012)
Keisha K – visa (UNITED KINGDOM, 2015)
Ms Desire – ready fa dis (UNITED KINGDOM, 2012)
Charma D – have a good time (UNITED KINGDOM, 2015)
Villianz – work overload (UNITED KINGDOM. 2015)
Terrah Dan – way di girls at (UNITED KINGDOM, 2015)
Ms Desire – mind ya bizness (UNITED KINGDOM, 2011)
DeeVine – leave me (UNITED KINGDOM, 2013)
Silverfoxx – doh hold meh (UNITED KINGDOM, 2015)
Cold Chizzle – white girls can whine (UNITED KINGDOM, 2015)
Shinji & Dakaneh – baila (SPAIN, 2012)
Cheluz – mi reina (SWEDEN, 2011)
Miss Tati – if you feel (NORWAY/SWEDEN, 2011)
Big Whale – make i talk (SWEDEN, 2011)
KaSimba – i want to know (SWEDEN, 2011)
Jabaman – just let me know (SWEDEN, 2011)
Scrappy – we soca (UNITED KINGDOM, 2014)
Luyanna & Mampi – walilowelela (french radio edit) (FRANCE/PORTUGAL, 2015)
Ms Desire – partier (UNITED KINGDOM, 2015)
Triniboi Joocie – last wuk (UNITED KINGDOM, 2015)
James Noyer & David Miks – outra noite (PORTUGAL, 2013)
Sins of Sound – tu boca (PORTUGAL, 2013)
Kaysha – jusqu'a fatigué (FRANCE, 2004)
David Miks & R'Bros – love love (PORTUGAL, 2013)
Miky Uno – ti gwada / viens avec moi (mikas club edit) (FRANCE, 2013)
Willy William & Lylloo – hula hoop (extended french version) (FRANCE, 2011)
Olmyta & Kymai – tout le monde d'accord (edit mix) (FRANCE, 2011)
Soca Princess – ah ready (UNITED KINGDOM, 2015)
Scrappy – everybody (UNITED KINGDOM, 2015)
Soca Boys & Van B. King – bumpin' keep on bumpin' (NETHERLANDS, 1998)
Edalam – follow the leader (FRANCE, 2010)
Ranking Smo – kdk (GERMANY, 2009)
Valentino King & Megamaster & D Love – e kos ki ta hot (NETHERLANDS, 2010)
Damian dalla Torre – saxophone solo (special) (ITALY/GERMANY, 2015)
Konata Alleyne – aye yo (lemme see yuh) (UNITED KINGDOM, 2011)
Chardanai – see mi deh (on di road) (UNITED KINGDOM, 2012)
Golden Child – champion body 2.0 (UNITED KINGDOM, 2015)
Lutenants – from nothing to something (snippet) (UNITED KINGDOM, 2012)
Soca Kidd – noise (UNITED KINGDOM) (2009)
Socachild – roll that bumpa (UNITED KINGDOM 2015)
Zylo – roll It, roll It (UNITED KINGDOM, 2015)
VillianZ – show me your motion (UNITED KINGDOM, 2015)
Scrappy – start to bounce (UNITED KINGDOM, 2011)
Jo Money – mash up (UNITED KINGDOM, 2015)
Natia Daniel – listen to meh (UNITED KINGDOM, 2015)
Triniboi Joocie – must be in dat (UNITED KINGDOM, 2014)
Triniboi Joocie – mawd (UNITED KINGDOM, 2015)
Ranking Smo & Boone Chatta – hermannplatz (GERMANY, 2010)
Keen V – phenom'n (FRANCE, 2008)
Etzia & Wax Wreckaz – bubble & wine up (so shifty rmx) (SWEDEN/GERMANY/AUSTRIA, 2012)
Keen V – cigatheque (FRANCE, 2010)
Edalam & Dj Kikfat & Willy William – helicopta collector (mikas edit) (FRANCE, 2015)
Kymai – balance toi (mikas sflower & wessel radio edit) (FRANCE, 2014)
Abege & Kaysha & Yshah – les garçons (FRANCE/PORTUGAL, 2007)
Scrappy – trouble (UNITED KINGDOM, 2015)
Keen V – plein les oreilles (FRANCE, 2008)
Justin 'Microdot' Russel – helicona pan (UNITED KINGDOM, 2015) (special)
Big Bad – bumpa is a problem (UNITED KINGDOM, 2015)
Dan Dan – juk it (UNITED KINGDOM, 2015)
Lighta – rum (is it) (UNITED KINGDOM, 2015)
Natia Daniel – party over (UNITED KINGDOM, 2015)
Triniboi Joocie & Nikisha – sweet calypso (UNITED KINGDOM, 2010)
Giselle Carter – so sweet (UNITED KINGDOM, 2014) (bonus track)
Support the huge project with a PAYPAL donation to continue the research on the Caribbean Soca movement.
Special Thanks to Riddim Up Productions, Partillo Productions, Willy William, Militant Entertainment, Heckert Empire, LMP Records, SD Productions, Victorious Track, QT 2Hype, Ultrabeatz, Toolbox, James Noyer and all other producers. A big shout out goes also to Damian Dalla Torre (from Italy) for his special recorded saxophone solo and also to Justin 'microdot' Russel for the steel pan freestyle on exclusively recorded for the mix in London (United Kingdom).
Nuff Thanks for support, cooperation and jingles to Skarra Mucci, Deevine, Valentino King, B2B, Ms Desire, Giselle Carter, Dynamq, Curt Johnson, Keisha K & Jo Money and all artists, producers, promoters and deejays helping get more information about each and every country.

#SupportYourDJGirl

DJ MIKA RAGUAA

Specialized DJ for Reggae, Dancehall and Soca music. Known for high quality selections including latest remixes, acoustic influences and new developements of Caribbean music produced worldwide.

SUPPORTED BY

Press Releases