LIVE SET: DJ MIKA RAGUAA @ #63Lounge | Aripita Avenue – Port of Spain | Trinidad
>>>  FAVORITE FUNKY & DISCO REMIXES 
This is the first of three released live sets from #63Lounge, the resident location of DJ MIKA, on the well-known Aripita Avenue in Port of Spain, Trinidad. The live selection was recorded in 2017 and features funky and discolike remakes, including Soca hits on funky beats and disco pop anthems, sweetened up with exclusive and self-created remixes.  
Recorded with CD Players.  #mikashelldown

48:33 MIN – 111 MB – 320 Kbs, MP3
(RIGHT-CLICK AND SAVE TARGET AS…)
This live set is available on Mixcloud & Soundcloud:
www.soundcloud.com/mikaraguaa
www.mixcloud.com/mikaraguaa
Live Set: TRAP – MOOMBAHTON – TWERK [EXPLICIT]
Mixed by DJ MIKA RAGUAA
Do you have big speakers with a nice bass to use? Well, then this future bass selection will make you bounce. The mix was recorded in 2017 in Halle (Germany), where DJ MIKA was studying for a few years. Together with DJ Xbrayne (who starts the set), she recorded this bassy live set, including Trap, Twerk, Dubstep, Moombahton, Rap, and Global Bass. Her set starts at around 34 minutes of the set. Don't forget to turn on the bass for this one, it's a trap!
Tracklist & Download on personal request. This mix is exclusively available on Mixcloud

Live Set: TRAP – MOOMBAHTON – TWERK – DANCEHALL
Mixed by DJ MIKA RAGUAA
There were these guys in Leipzig (Germany), who had the idea, that Santa Claus is attending crazy Trap parties, so they got themselves a costume and started the first events, totally illegal under bridges or in forests, DJ MIKA was always on board with trending Trap, Twerk, Moombahton, Dubstep and Global Bass remixes, edits and exclusive tracks.
The "Project Santa" became a household name in the party scene of Leipzig and featured events with even more than one location, decorated areas, bouncy castles, and a crazy stage show with Santa as the special guest. These memorable shows were attended by thousands of people and found a place in the middle of underground music. Enjoy this live set from one of their events. 
Tracklist & Download on personal request. This mix is exclusively on Mixcloud.

Live Set: BOOM SHIVA (GLOBAL BASS – JUNGLE – DIGI STEP) @ Global Reggae Bar (Ibiza, Spain)
Mixed by DJ MIKA RAGUAA
On Ibiza, the Spanish Mediterranean Island, anything is possible, also that you join a Reggae bar and get a full blast of bass and crossovers, selected by a female DJ, with a lot of glitters, a little bikini, and a big smile on her face. This experimental selection crosses the borders of genres, showing you what the digital influence in Reggae was causing to underground kinds of music. This selection contains artists like Soom T, Freetown Collective, Flux Pavillion, and many more. Jungle remakes of Reggae hit songs by Marcus Visionary, the Four Corners Crew any man many others. 
Recorded with CD Players. Exclusively on Mixcloud.  
DANCEHALL MIXTAPE – DANCEHALL BASHMENT – SEX SELLS EDITION [EXPLICIT]
A Sextape? Yes!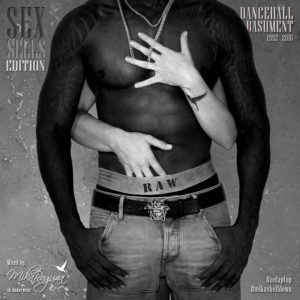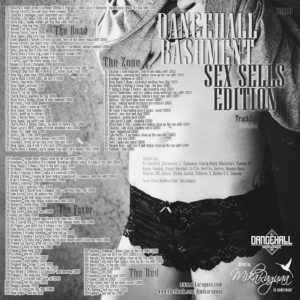 Mixed by DJ MIKA RAGUAA
Imagine a female DJ recording a sensual Dancehall mix in underwear just to feel the vibrant vibes in a better way herself. Wouldn't you like to hear the result? DJ MIKA did it for you! The idea to create a "sex tape" resulted from a lot of Dancehall releases with an intimate intention. That's what "Dancehall Bashment – The Sex Sells Edition" is about. Let this soundtrack make you have a good time. Officially tested and approved on a worldwide scale! 
Exclusive sound effects cover versions, and remixes together with musical excursions to music genres like Chilltrap, Twerk, Moombahton, and even Booty Bass will give you a nice feeling. Artists from Jamaica to New York City, from Nigeria to Florida, from Ghana to Germany, from Amsterdam to Port of Spain, Trinidad & Tobago. A lot of newcomers have been featured like Jelani, Korrexx, Black Starr, Jez Blenda, Jr Kenna, Dwayne Rose, and Krishane but also Vybz Kartel, Alkaline, Busy Signal, Konshens and many more will make you feel hotter than ever!

PREVIEW:

Jingles by: DJ Vybzlord (USA), Shotmaster J (Trinidad), Cinnamon (St. Kitts), Charly Black (Jamaica), Blackstarr (Trinidad), Famous 20 (Jamaica), Bunny General (Jamaica), Wayne Marshall (Jamaica), Skarra Mucci (Germany/Jamaica), Ce'Cile (Jamaica), Red Fox (Jamaica), Korrex (USA/Jamaica), Dwayne Rose (Jamaica), Phanton IMC (Jamaica), Jelani (Jamaica), Alishia (Trinidad), Lustah (Jamaica), Tallpree (Grenada), K. Holder (Trinidad) & C. Johnson (USA) – Thank you for your great support!

#mikashelldown
Cover Photo: Problem Child / Mika Raguaa
Layout: Mikado Media

178:18 MIN – 408 MB – 320 kbs, MP3
(RIGHT-CLICK AND SAVE TARGET AS…)
DJ MIKA RAGUAA

Come on a musical journey with DJ MIKA. Since 2008 this lady is fascinating crowds internationally with her strong stage presence, her smile and her tight skills in mixing.

She plays the latest hits and biggest classics in Reggae, Dancehall, Soca, Calypso, Afrobeat, Latin Music, Global Bass and Tropical Disco.

On top, DJ MIKA loves to surprise you with exclusive remixes, long-forgotten music treasures, acoustic and cover versions.

MIXTAPES & LIVE SETS

SUPPORTED BY