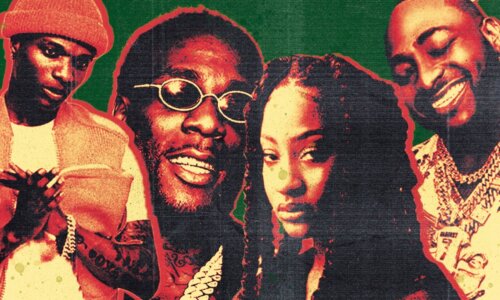 Live Set: DJ MIKA RAGUAA @ #63Lounge | Aripita Avenue – Port of Spain | Trinidad
>>> BACK TO AFRICA | SOCA & MOOMBATHON ANTHEMS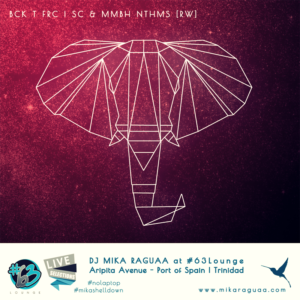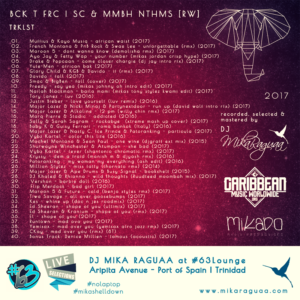 BACK TO AFRICA is the last live mix from the collection at #63Lounge on Aripita Avenue, Port of Spain (Trinidad and Tobago) in 2017.
For three months the passionate DJ lady presented versatile live selections (six hours in a row each night). While discovering Afrobeats at around this time, this mix includes African flavored and moombah pop tracks from Trinidad and Tobago, Ghana, Nigeria, Italy, Germany, France, and Sweden featuring artists like French Montana, Runtown, Kes, Tory Lanez, Major Lazer, Vybz Kartel, Nailah Blackman, Davido, Drake, Ed Sheeran and many more. Turn on your speakers for the highest entertainment!
Recorded with CD Players. #mikashelldown

71:37 MIN – 266 MB – 320 Kbs, MP3
(RIGHT-CLICK AND SAVE TARGET AS…)
—————————————————————————–
This live set is available on Soundcloud & Mixcloud:
www.soundcloud.com/mikaraguaa
www.mixcloud.com/mikaraguaa
Watch the Trailer here:
Live Set: KASH HIGHWAY BAR – SUMMER MIX
SOCA | REGGAETON | MOOMBAH | AFROBEATS | MAMBO | CHUTNEY | REMIXES
Mixed by DJ MIKA RAGUAA
This live set is filled with Caribbean, African and Indian vibes, fusing tracks from Latin America with the percussive sounds of Soca, Chutney Soca, Afrobeats, and Reggaeton. While having a resident at Kash Highway Bar in San Juan Trinidad, the session was recorded with passion and skill. Enjoy a fantastic and timeless composition selected and mastered by DJ MIKA. This selection features artists like Calypso Rose, Kes, Voice, Turner, Charlie Blacks, Ozuna, Tekno, Erphaan Alves, Bunji Garlin, and Pternsky. Enjoy!

Watch the Trailer here:

Recorded with CD Players. #mikashelldown

70:25 MIN – 164 MB – 320 Kbs, MP3
(RIGHT-CLICK AND SAVE TARGET AS…)
—————————————————————————–
The mix is also available on Soundcloud & Mixcloud:
www.soundcloud.com/mikaraguaa
www.mixcloud.com/mikaraguaa
DJ MIKA RAGUAA

Come on a musical journey with DJ MIKA. Since 2008 this lady is fascinating crowds internationally with her strong stage presence, her smile and her tight skills in mixing.

She plays the latest hits and biggest classics in Reggae, Dancehall, Soca, Calypso, Afrobeat, Latin Music, Global Bass and Tropical Disco.

On top, DJ MIKA loves to surprise you with exclusive remixes, long-forgotten music treasures, acoustic and cover versions.

MIXTAPES & LIVE SETS

SUPPORTED BY