LIVE SET: DJ MIKA RAGUAA @ #63Lounge | Aripita Avenue – Port of Spain | Trinidad
>>> FV LND PP & DNCHLL NTHMS [RW]
Since more than two months DJ MIKA RAGUAA is surprising every friday with versatile live selections at @ #63Lounge on the well known Aripita Avenue in Port of Spain, Trinidad. The country is known to be a very music minded place. Since more than six months the Polish born left her home country Germany to experience and study Trinidad and Tobagos music and culture. DJ MIKA RAGUAA decided to fuse her international selections with the local hits. Her selections drive her to excursions to all kind of music genres when ever there is a relation to Caribbean music. Enjoy the second set out of the live selection with Mikas favorite Island Pop & Dancehall anthems including international hits of Alkaline, Beenie Man, Gage, Konshens, Kranium, Tommy Lee, Vybz Kartel, Dexta Daps and many more!
Recorded with CD Players. #nolaptop #musicislove #63Lounge #mikashelldown

73:47 MIN – 168 MB – 320 Kbs, MP3
(RIGHT CLICK AND SAVE TARGET AS…)
Listen online here:
www.soundcloud.com/mikaraguaa
www.mixcloud.com/mikaraguaa
LIVE SET: DJ MIKA lgs. ESCOBARR @ Jimmy Sue Bar – Carenage (Trinidad) (2017) (DANCEHALL & ISLAND POP)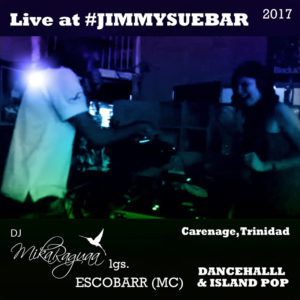 Escobarr is not only one of the wickedest MCs out of Carenage (Trinidad). Known as "Dutty Mouth" he was the perfect partner to team up for this raw Dancehall and Island Pop selection – featuring artists like Mavado, Alkaline, Vybz Kartel, Dexta Daps, Chronixx and many more! Attention – this selection is RAW! Enjoy!
Recorded with CD Players. #nolaptop #mikashelldown
DANCEHALL MIXTAPE – DANCEHALL BASHMENT – SEX SELLS EDITION (mixed by DJ Mika Raguaa)
After asking my Facebook-friends if i shall run as next Dancehall mix a raw or a clean mix ………… the result has been more than clear! I thought it is a good idea to play with the topic a little bit. The result is a diverse and large-scale mixtape production with the special idea of make people come together to come closer and enjoy the right music to some physical actions… Yes, … this is for you!
What i have been putting together are sensual and lyrical Dancehall tracks with a sexy touch, combined with exclusive remixes, a lot of nice sound effects and excursions to music genres like Chilltrap, Twerk, Moombahton and even Booty Bass… Artists from Jamaica to New York City, from Nigeria to Florida, from Amsterdam to Port of Spain, Trinidad & Tobago … From Ghana to Germany back to the land of the birth of the music! Surely i also want to introduce some new artists, that really deserve a little view on their great work … I talk about Jelani, Korrexx, Black Starr, Jez Blenda, Jr Kenna, Dwayne Rose & Krishane – it's definetly worth it to check them out! Latest hits, new influences and good old classics in a 3 hours super selection… dedicated to those that like it extra long – to have a good time together – from the first moves to the final physical attraction… Enjoy! PS: The mix was recorded in underwear… when you listen to it – you know why… it is damn hot!

Jingles by: DJ Vybzlord (USA), Shotmaster J (Trinidad), Cinnamon (St. Kitts), Charly Black (Jamaica), Blackstarr (Trinidad), Famous 20 (Jamaica), Bunny General (Jamaica), Wayne Marshall (Jamaica), Skarra Mucci (Germany/Jamaica), Ce'Cile (Jamaica), Red Fox (Jamaica), Korrex (USA/Jamaica), Dwayne Rose (Jamaica), Phanton IMC (Jamaica), Jelani (Jamaica), Alishia (Trinidad), Lustah (Jamaica), Tallpree (Grenada), K. Holder (Trinidad) & C. Johnson (USA) – Thank you for your great support!
Cover Photo: Problem Child / Mika Raguaa
Layout: mikado media productions
CAUTION ! CAUTION ! CAUTION!

The mix is created for:

1. Guys that want to make a girl attracted to them
2. Girls that want attract guys
3. Couples that need to get a new kick in their relationship
4. People that just fell in love and have love more than two times a day
5. Follwers of lyrics and musical harmonies in Caribbean music
6. Addicts of slackness and lovers of Dancehall music
7. Big speakers
The mix is NOT created for:

1. The radio
2. The television
3. The newspaper

178:18 MIN – 408 MB – 320 kbs, MP3
(RIGHT CLICK AND SAVE TARGET AS…)
Live Set: THE VIBE IS RIGHT @ REGGAEJAM (North Germany) (2015)
(mixed by DJ Mika Raguaa)
The Reggaejam Festival in Bersenbrueck (North Germany) is not only a great spot for Caribbean music to represent. Year by year it is bringing people from all over together to see spectacular concerts and enjoy three (or somes even more) days in a great harmony. Also it is a great possibility to link up with fans and supporters that raised over all years.
In the year 2010 DJ Mika got the chance to deejay at the Gambia Family Yard on the campside of the festival. After a very stressful time in her life (during her studies) she relieved her stress in an 10 hours non-stop selection that stood in mind for many visitors. Many DJs and MCs passed by and surely she was extremely happy that i got the chance to come back and shell down the place 2016!
Enjoy the audiovisual impressions and give thanks to all supporters over all the years and surely also to the GAMBIA Family North Germany for this lovely possibility of representation.
Jingles by:
Damas (Kinston / Jamaica), DeeVine (London / UK), Lustah (Kingston / Jamaica) , Cinnamon (Basseterre / St. Kitts), Omar (Kampala / Uganda), Pablo (Rome / Italy), Junior (Kingstown / St. Vincent), Ryan G (Port of Spain / Trinidad), C Johnson (New York / USA), Nikolas (Port of Spain / Trinidad), Smiley (Zurich / Switzerland), Natasha (Boston / USA), Yaad Mob (Kingston / Jamaica), Jah Warriah (Hahare / Zimbabwe)
Footage by: Mikado Media Productions

87:30 MIN – 201 MB – 320 Kbs, MP3
(RIGHT CLICK AND SAVE TARGET AS…)
Listen online over Mixcloud / Soundcloud
Live Set: REGGAE – TIMELESS PRECIOUS PURE @ LA CASITA VERDE (Ibiza, Spain) (mixed by DJ Mika Raguaa)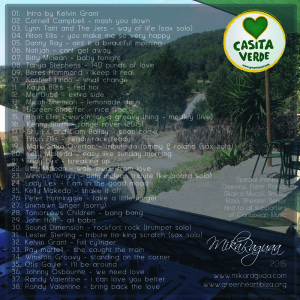 Imagine a pine forest in the mountains of a small medteranian island called Ibiza. In the middle of it a huge ecologic aloe farm and beautiful people enjoying their sunday with great food and a beautiful scenery… That was the spot where the set was recorded. And so smoove and simple is this live selection
A special thanks to the artists Deevine, Sheldon Senior, Peter Runks, Skarra Mucci, Smiley and Etzia for your great drops and surely to LA CASITA VERDE for your great hospitality!
Enjoy the warm and sweet vibes of Vintage Reggae productions and later ones that want to sound like in the past.


80:42 MIN – 186 MB – 320 Kbs, MP3
(RIGHT CLICK AND SAVE TARGET AS…)
REGGAE COVER MIXTAPE – Run for Cover (mixed by Mika Raguaa)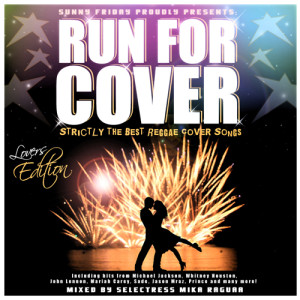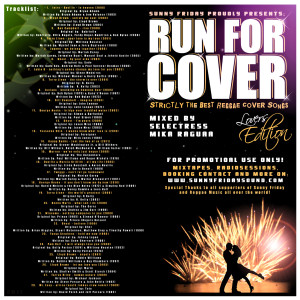 A Lovers Rock selection out of popular songs out of the music history was the idea of "RUN FOR COVER". Enjoy a beautiful and emotional composition out of Songs from Whitney Houston, Michael Jackson, Simon and Garfunkel, Prince, John Lennon over to the Carpenters and Robbie Williams in a Reggae interpretation performed by artists like Tarrus Riley, Lloyd Brown, Ghost, Luciano and many more! This mixtape got reviewed by Riddim Magazine Germany.

54:21 MIN – 124 MB – 320 Kbs, MP3
(RIGHT CLICK AND SAVE TARGET AS…)
REGGAE – LIVE SET – WARUM UP Selection @ MASH UP DI PLACE
A Rub A Dub and Concious Reggae warm up selection recorded on the spot where DJ Mika Raguaa started to play for the first time. Since then her passion for music brought her back year by year to the MASH UP DI PLACE massive at Alhambra in Oldenburg (North Germany). Download & Tracklist on personal request.
Turn up the volume and enjoy!
REGGAE – ISLAND POP – LOVERS ROCK – LIVE SET – LAST CHAPTER OF THE NIGHT @ MASH UP DI PLACE
An awesome 7 years celebration of deejaying at the spot where everything started MUST end up and sound like this! A final Reggae selection at 4 am in the morning – with a deep vibe …
Enjoy the MASH UP DI PLACE live selection recorded at Alhambra, Oldenburg (North Germany). Download & Tracklist on personal request. Reggae is deep – Reggae is vibes! Feel it!
DANCEHALL – GLOBALL BASS – JUNGLE – DIGITAL REGGAE – LIVE SELECTION
This selection was recorded at the GLOBAL REGGAE BAR (Ibiza, Spain), an amazing spot for Reggae vibes and tasteful cocktails in 2014. Once a DJ finding out how to cross borders to different genres, the doors for creative cross over selections are extremely wide open. This is a bassful example on how a day on the beach next to a Reggae Bar can sound like. Tracklist on Mixcloud. Boom!
REGGAE MIXTAPE – Night Shift (mixed by Mika Raguaa)
A sweet Reggae collaboration with the clothing line REP JA based in Pine Lake, Georgia (USA). Including sweet shout outs by the artist Cornadoor and songs by Chezidek, Busy Signal, Jah Vinchi, Jah9, Gentleman, D Major and many more!

32:03 MIN – 73,4 MB – 320 Kbs, MP3
(RIGHT CLICK AND SAVE TARGET AS…)
REGGAE RELICK MIXTAPE – Back to di Future (mixed by Mika Raguaa)

Reggae Relick mixtape? What is that? A relick is a production inspired by an earlier release of a song. It can be a melodic influence or even a lyrical inspiration by the earlier song.
BACK TO DI FUTURE is playing with the idea of historical reproduction and is jumping from new to older releases back to new ones.
This timeless production was created in the early years (2009), while DJ Mika & DJ Sensay was known as Sunny Friday Sound.
If you love REGGAE MUSIC – this mix is a must have!

78:18 MIN – 178 MB – 320 Kbs, MP3
(RIGHT CLICK AND SAVE TARGET AS…)
See the diversity of relicks in the Tracklist:

1. Bitty McLean – baby tonight (Those Guys Riddim – 2004)
2. Anthony Q – what a feeling (Those Guys Riddim – 2008)
————————————————————————
3. Trevor Ranking & the Jays – queen majesty (1975)
4. Sizzla – just one of those days (Queen Majesty Riddim – 2004)
5. Tenor Saw – road call (Queen Majesty Riddim – 1984)
————————————————————————
6. Barrington Levy – prison oval rock (Prison Oval Rock Riddim – 1982
7. Mr. Vegas – Must come a road (Prison Oval Riddim – 2008)
————————————————————————
8. Million Stylez – police in helicopter(2008)
9. John Holt – police in helicopter (1981)
————————————————————————
10. Dennis Brown – revolution (1988)
11. Barrington Levy – here I come (1985)
————————————————————————
12. Ini Kamoze – world a reggae music (World a Music Riddim – 1983)
13. Anthony B – world a reggae music (World Jam Riddim – 2005)
14. Luciano – A no like we no like them (World Jam Riddim – 2005)
15. Damian Marley – Welcome to jamrock (World a Music Riddim – 2004)
————————————————————————
16. Bounty Killer – roots, reality and culture (Real Rock Return – 2005)
17. Elephant Man – one chapter a day (Real Rock Return – 2005)
18. Johnny Osbourne – no icecream sound (Real Rock Riddim – 1992)
————————————————————————
19. Tenor Saw – ring di alarm (Stalag Riddim – 1985)
20. Sister Nancy – what a bam bam (Stalag Riddim)
————————————————————————
21. Toots & The Maytals – what a bam bam (1966)
22. Chaka Demus and Pliers – what a bam bam (Bam Bam Riddim – 1992)
23. Busy Signal – tie & die face (Bam Bam Riddim – 2009)
————————————————————————
24. Red Rat – bizzi blazzi (Black Widow Riddim – 1998)
25. I Wayne – warriors (Retro Black Widow Riddim – 2007)
————————————————————————
26. Vybz Kartel – ting a ling (School Bell Riddim – 2009)
27. Shabba Ranks – ting a ling (Gi-Gi Riddim – 1992)
28. Vybz Kartel – tight pussy gyal (Bogle Resurrection Riddim – 2005)
————————————————————————
29. Mad Cobra – tek him (Cherry Oh Baby Riddim – 1991)
30. Eric Donaldson – what a festival (Cherry Oh Baby Riddim – 1971)
————————————————————————
31. Bob Marley & The Wailers – stir it up (1973)
32. Junior Kelly – if Love so nice (Stir it up Riddim – 2000)
————————————————————————
33. John Holt – stick by me (1971)
34. Dennis Brown – stick by me (1992)
————————————————————————
35. Johnny Osbourne – play play Girl (Feeling Soul Riddim)
36. Buju Banton – love me browning (Feeling Soul Riddim – 1991)
————————————————————————
37. Anthony B – calm down di gun (Jah Jah see dem a come Riddim – 2008)
38. Gyptian – see dem a come (Jah Jah see dem a come Riddim – 2008)
39. Culture – see dem a come (1977)
————————————————————————
40. Dennis Brown – the drifter (Drifter Riddim – 1979)
41. Nitty Kutchie – the drifter (Drifter Riddim – 2002)
42. Bounty Killer – pretty thief (Drifter Riddim – 2002)
————————————————————————
43. Bounty Killer – sleng teng resurrection (remix) (2004)
44. Wayne Smith – under mi sleng teng (1985)
45. Burro Banton – ghetto living (Sleng Teng Refueled Riddim – 2009)
————————————————————————
46. Mr. Vegas – lean with it (Darker Shade of Black Riddim – 2007)
47. Sizzla – explain to the almighty (Darker Shade Riddim – 2002)
————————————————————————
48. Dennis Brown – hit and run (Pretty Looks Riddim – 1996)
49. Beenie Man – big up and respect (Pretty Looks Riddim – 2009)
————————————————————————
50. Cocoa Tea & Cutty Ranks – waiting in vain (Waiting in Vain Riddim) (2008)
51. Bob Marley & The Wailers – waiting in vain (1977)
————————————————————————
52. Richie Spice – gideon boots (Johnny too bad Riddim – 2006)
53. Ras Shilo – come down jah jah (Johnny too bad Riddim – 2006)
54. Dennis Brown – johnny too bad (1971)
————————————————————————
55. Gregory Isaacs – once ago (1990)
56. Dynamq – once ago (2008)
————————————————————————
57. Sean Paul & Sasha – I'm still in love with you (2002)
58. Marcia Aitken – I'm still in love with you (1978)
59. Althea & Donna – uptown top ranking (1978)
60. Beres Hammond – can't stop a man (1999)
————————————————————————
61. Beres Hammond – what one dance can do (2004)
62. Aisha Davis – murder (what one more dance can do riddim – 2008)
————————————————————————
63. Shaggy & Rik Rok & Tony Gold – bonifide (Panty Town Riddim – 2007)
64. Turbulence – ethiopia awakes (Shanty Town Riddim – 2003)
65. Desmond Dekker – shanty town (1972)
————————————————————————
66. The Specials – a message to you rudy (1967)
67. Mojo Morgan – rude bwoy (Rudie Riddim – 2009)
68. Fayann Lyons – lonely girl (Rudie Riddim – 2009)
————————————————————————
69. Beres Hammond – no more (Perfidia Riddim – 2004)
70. Phyllis Dillon – perfidia (1967)
————————————————————————
71. Lady Lex – bad boys (Tune in Riddim)
72. Tarrus & Jimmy Riley – pull up selector (Tune in Riddim)
————————————————————————
72. Mr. Vegas & Jovi Rockwell – can't stop (2009)
73. The Techniques – you don't care
74. Slim Smith & The Uniques – my conversation (1971)
75. Richie Spice – love for a life time (My Conversation Riddim – 2001)
————————————————————————
76. Wayne Wade – love you too much (Love Bump Riddim – 1998)
77. Cornadoor – choclate fudge (2009)
#SupportYourDJGirl

DJ MIKA RAGUAA

Specialized DJ for Reggae, Dancehall and Soca music. Known for high quality selections including latest remixes, acoustic influences and new developements of Caribbean music produced worldwide.

SUPPORTED BY

Press Releases