---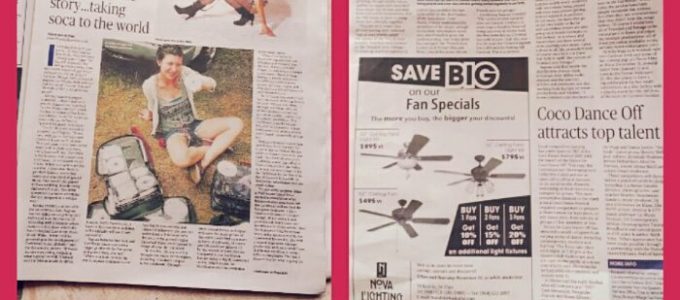 A musical love story…taking soca to the world
Peter Ray Blood
Published: Trinidad Guardian Newspaper – Saturday, October 28, 2017
In Trinidad for just over a year, DJ Mika Raguaa (Dominika Tux) has been making quite a name for herself, especially for her mixtape productions and recent weekend gigs at the popular Club 63 on Ariapita Avenue. Though born in Poland, Raguaa has familiarised with not just the music but the vibe and lifestyle of T&T and Caribbean people.
Having mastered reggae, dancehall, calypso and soca genres, Raguaa has launched "a new music concept" which she has branded as The Bride, customised music for weddings, music she has defined as "passionate music selections."
"The Bride is my second DJ project," said Raguaa. "It was very popular in Germany and I believe it can catch on here. This past year I have been doing more with in clubs and fetes, the urban stuff. But, The Bride is more classy and creates your individual, personalised sound tracks. When a couple is getting married, I interview them to get their history, learn their tastes and what kind of special music they would like played at their wedding. Beside being customised music The Bride comprises exclusive selections that are designed in a unique way."
Having recently cut ties with the Woodbrook club, Raguaa has her sights set on getting into radio and is in the process of recruiting with a popular urban station to do a show which she has christened Caribbean Music World Wide. "What I will be presenting is the development of Caribbean music globally," said the female disc jockey. "It would involve everything, including what's going on with Trinidad and Caribbean music in Africa, Europe, North America etc. I have to do a test show and they will eventually tell me if I am successful."
Raguaa believes that local and Caribbean music can have a bigger profile on the European and global front. She said: "When you look on how big the European continent is and how big its international and historical influences are, you can understand a little better why the soca or the general reggae dancehall music could spread its wings all over the continent.
"In the 80s, DJs and tourists brought the music of this region, including Trinidad's calypso, to the continent. Through international travels and export strategies the music genres of the region could find even more millions of followers. Of course also DJs could get influenced by the records of their parents. Compared to the Caribbean, Europe today is highly connected online, which makes the distribution and the promotion of the music easier.
"When I started to DJ, Facebook was not even yet invented and MySpace was the way of promotion for events, as well as new mixtape productions. The European market is mainly influenced by different types of music genres, yet soca, reggae and dancehall are still just known as underground music.
"In Germany you nearly can't hear the music of the Caribbean on radio stations and often, through television, pictures of the Caribbean are spread in a more touristic aspect, not as a music destination. The Caribbean is marketed and branded as a paradise—a huge hotel resort—or an area where most people cannot afford to go to."
Raguaa contends it takes time and money for a "foreign" DJ to get to the Caribbean, far less make an impact once here. She said: "Not every DJ who plays Caribbean music, can afford it. Take a look on how the reality is; it took me seven years to hit the Caribbean for the first time. But of course it is possible to find plenty information and also music online.
"In one of my projects—Blaze a Trail Across Countries—I started to research on what happened after soca music left the Caribbean and reached the European continent. I did a three-month research project through all my contacts and professionals that I know and documented it in the article titled The European Soca Movement (www.mikaraguaa.com/articles). I presented the results, also with a related large scale mixtape production with soca music from 11 different countries in seven different languages. The result showed exactly what is going on.
"Europe is a multilingual area of this world—I was born in Poland; grew up in Germany; and, up to today, I believe that the cultural and language borders between Poland and Germany make it hard to understand each other. Polish and German and two different languages that have nearly nothing in common but music can unite in the same way as it can separate.
"There is a soca movement in Europe and it is growing and growing, though maybe not so quickly as reggae and dancehall. Soca music has its fans and they have realised for themselves, that the T&T music is nicer to bring those fans officially together.
"You see soca music fans all over waving their national flags at soca events under the names of the 'Dutch Soca Lovers', 'German Soca Junkies' or the 'Swedish Soca Vikings.' To team up and fete together is a great idea to entice the fans to be active in the distribution of the soca music. Even finally, France understood the attraction of the music, enough to translate information about soca into French to grow the understanding. Out of this drive has emerged the 'French Soca Lovers' and 'French Kiss and Wine,' two of the more vibrant French soca fan groups."
Continuing Raguaa revealed: "The events around Carnival time are rising in Germany to more than a hundred hours of feting and even in Switzerland, the first three-day soca festival was held in June / July this year. For 50 years the United Kingdom has celebrated its Notting Hill Carnival. This is a carnival organised by people from the Caribbean for people from the Caribbean. The Netherlands has its 'Zomer Carnival' which is celebrated in Rotterdam and Berlin's Carnival is more a multicultural happening focusing on all cultural diversity of the German capital city. However, for the past ten years you can find at least two soca trucks are on the road in Berlin. Reggae and dancehall are also represented on other trucks.
"Beside the Carnival happening there are many soca events out there in Europe. Most often you can party in London nearly every weekend with soca music being played and even soca artistes getting invited regularly to perform. In Germany, the festivities go on for two weeks in Berlin and sometimes events are also going on in South Germany or Switzerland. In Arnhem and Amsterdam you have several clubs pushing soca music. I give a shout to all DJs, promoters and of course soca fans out there that help to uplift the culture of Trinidad and Tobago."
Raguaa said that beside the distribution of soca music in Europe over online radio stations and the internet, artistes and producers are also working from Europe on music productions and riddims. "I know remixers and producers in Norway, Sweden and Finland," said Raguaa, "and, the highest amount of soca artistes could be found in London (UK). There are also many reggae and dancehall artistes that would love to do more on soca beats too. In my opinion those artistes deserve a little more respect for what they do, especially being so far away from the Caribbean. Those artistes still decide to represent their origin culture, no matter if they were born in the Caribbean or in Europe.
"There are plenty productions that never make their way back to the Caribbean and those I would like to present, based right here in the Caribbean. When I play the productions here people recognise the artistes, but often they are overwhelmed that they didn't hear the songs before. Of course I would love all of Trinidad and Tobago to be encouraged to listen and enjoy my mixtape productions—all of them are online available on my website (www.mikaraguaa.com).
DJ Mika Raguaa is booked right into Carnival 2018 and some of her coming gigs are Neon-Time to Shine (December 2), Jumanji Safari Fete (January 1) and, Love in the House (February 2). She also plans to have a big celebration for her tenth anniversary as a disc jockey with a charity event for the children of Belmont on Carnival Sunday.
---
---
---
---
---
---
---
DJ MIKA RAGUAA

Come on a musical journey with DJ MIKA. Since 2008 this lady is fascinating crowds internationally with her strong stage presence, her smile and her tight skills in mixing.

She plays the latest hits and biggest classics in Reggae, Dancehall, Soca, Calypso, Afrobeat, Latin Music, Global Bass and Tropical Disco.

On top, DJ MIKA loves to surprise you with exclusive remixes, long-forgotten music treasures, acoustic and cover versions.

MIXTAPES & LIVE SETS

SUPPORTED BY